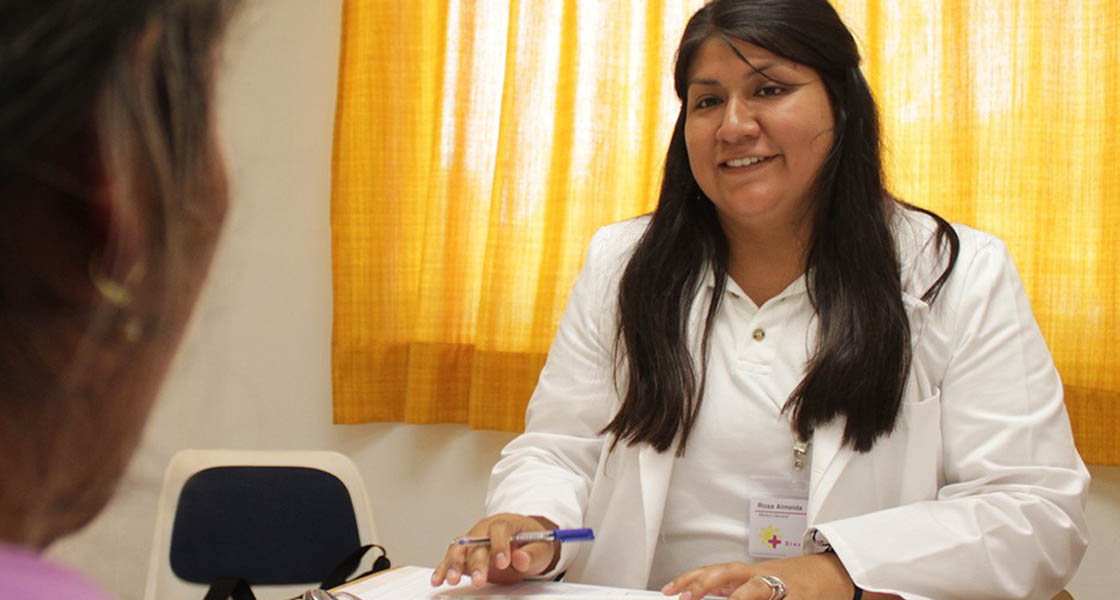 Look forward to our daily post
I have so much good news to acquaint you with that I hardly know where to start!  In the truest sense of the word we are currently being flooded with positive messages.  That is why we will report on them regularly and all of us will be able to thank God for all this good news.  This promise, however, comes with two conditions: first, that the internet will continue to work in Curahuasi and, secondly, that I won't be lying ill in bed with the virus.
The above picture shows Dra Patricia Almeida (in Spanish "Dra" is used to designate all female doctors) who is currently in Lima preparing for an important exam.  This week she will with the consent of the authorities travel the thousand kilometres from Lima to Curahuasi by road in order to support our medical staff in their battle against the Corona-Virus.
No one compels her; she comes willingly driven by one motive: to save the lives of countless Peruvians at our hospital.  In doing so she is putting her own health on the line.  Is this really a reason to thank God? Yes, indeed!!
As background information: in Spain Corona-patients have infected more than 4,000 doctors and nurses with the virus.  Our staff also won't be spared this fate.  Please join us in praying that we – when we reach this point – will quickly overcome the disease and can immediately continue working on all our stations.  The battle that we will encounter will last months, not weeks.
And now we will provide you with background information to Dra Patricia Almeida
Patricia comes from a humble background.  Dreaming as a youth of her future as a doctor she had clear idea of what was coming her way: "I will give orders and won't have to get my hands dirty!"  But life played a prank on her.  She fails the entrance exam to the state university, so instead she starts training as an ancillary nurse.
And now she stands at the bottom of the command chain.  Others tell her what she should and should not do.  On a daily basis she has to clear her patients' blood, faeces and urine away.  The young woman ponders her former pride, very little is left of her former arrogant behaviour.
But then suddenly things changed.  Helped by a US-missionary she can study medicine at a private university in Lima.  As a student she is invited to assist in a short assignment in the Peruvian rainforest.  The pictures of the indescribable need that she encounters hit her with full force and have accompanied her ever since.  In the midst of shocking human need Almeida discovers her true calling as a doctor.
End of 2013 she is given the book "I have seen God" (Dios es visible) and a few months later she reads "Hope in the Andes" that also tells Diospi Suyana's story.
"While reading these books I felt transported into a dream world," said Almeida,  "A world full of love for one's neighbour, an example of love in action.  I decided that I simply had to get to know Diospi Suyana myself!"
Then in August 2016 she travelled with 16 young people from Lima to Curahuasi.  Going through the hospital departments she was amazed by what she saw: a hospital built purposefully for poor people.
This motivated Dra Patricia Almeida to spend almost three years working as a doctor at the Hospital Diospi Suyana or put a different way, she served for three years.  Now she is coming back and we are delighted about the prospect of having her back among us./KDJ
Dear Paty, if the government permitted us we would hug you most cordially as soon as you set foot on the hospital grounds.  In a few months we will make up for this and hug you as cordially as we can. I promise!! / Klaus.
Word of the day from the Book of all Books
2,000 years ago, sitting in a prison-cell, awaiting his execution Paul wrote the following:
4 Rejoice in the Lord always. I will say it again: Rejoice! 5 Let your gentleness be evident to all. The Lord is near. 6 Do not be anxious about anything, but in every situation, by prayer and petition, with thanksgiving, present your requests to God. 7 And the peace of God, which transcends all understanding, will guard your hearts and your minds in Christ Jesus.
8 Finally, brothers and sisters, whatever is true, whatever is noble, whatever is right, whatever is pure, whatever is lovely, whatever is admirable – if anything is excellent or praiseworthy -think about such things. (Philippians 4:4-8)
Tomorrow more super-good news awaits you, but we will also continue to tell you about our needs and fears: life knows highs and lows.
Yesterday we wrote a long letter to all non-Peruvian volunteers
Its ending is as follows:
"Tina and I thank God for each one of you who stays and perhaps extends his/her stint here for longer than initially planned.  Where are we needed now?  In Curahuasi?  And when are we needed here?  Now and for the next six months!
We will encounter awful things: some people lying in our 100 hospital beds will die.  We will hear the screams and mourning of their loved ones.  It is even possible that panic grips the whole country and that then people will fight over each respiration bed.  Sadly, what I am describing is no exaggeration.  We will see things live that we never see on TV, but that are only mentioned in statistics.
But now to the good news.  God is with us and we are here in his name.  Perhaps we will experience healing through God's power.  He knows our fears and our tears.  We are not alone.
We thank each one of you who is prepared to invest her/his life in Curahuasi.  With a safety distance of at least one metre, but as close to each other as never before in Diospi Suyana's history we will go through this dark valley.
God is with us, his rod and staff comfort us.
In love and thankfulness, Tina and Klaus!"