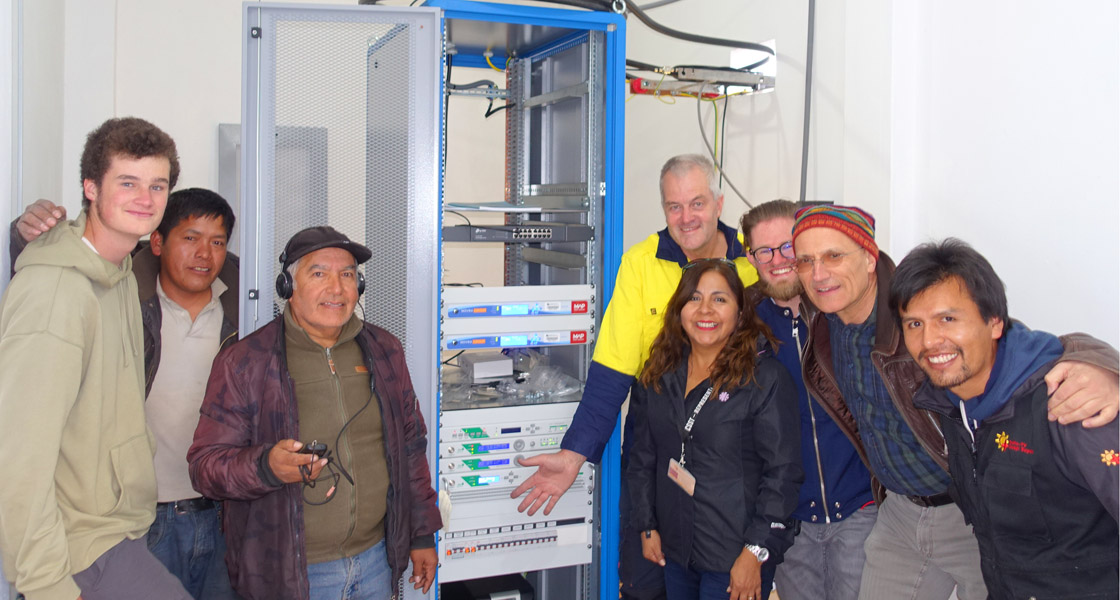 Half a million potential listeners in the Inca metropolis
A country in chaos and roadblocks in ten states. But at just before 6 p.m., jubilation broke out in the engineering room. Just then Doris Manco had pressed a button and our broadcast tower beamed the best news in the world into the high valley of the ancient Inca capital of Cusco. A great dream has thus come true.
A few minutes later, we celebrated the red ribbon cutting. And then it became quiet under the 45 m high tower. We joined hands and thanked God in five languages. Australian Chris Welch began with a prayer in English, then Peruvian engineer Victor Moreno followed in Quechua. Dr. Klaus John prayed in German and Louis Fischer in Portuguese. At the end, Doris Manco sent her thanks to heaven in Spanish.
As of Monday evening, ten Diospi Suyana radio towers are operating in southern Peru. We hope to go on the air in the province of Anta and in the city of Ayacucho in a few months. Then 50% of the population of five Peruvian states will be able to listen to Diospi Suyana's program. After five years of planning and hopes, we have reached a significant goal in Cusco. We are pleased to have the input of Australians Chris and Isaac Welch and the collaboration of Victor Moreno. Thumbs up to the team at our media center, who did a great job.
Only God knows where the boundaries for our transmission areas will be. Soli Deo Gloria. /KDJ