Some are paid. Others are not
Every day, many friends, both private and corporate, are committed to the vision of Diospi Suyana. Here we present only a small selection. At an Easter market in Braunfels, Daniela Bahr and Mariela (daughter-in-law of the Klemenz) collected a proud amount for the mission hospital in Curahuasi.
Anyone looking for mixing consoles for professional concerts in these months will be put off until never-never day. There is simply a lack of chips for the production of the valuable components. In the last few days, the employees of the Thomann company did an extraordinary job to find three mixing consoles for sound and light for our festival. Special thanks to department manager Tobias Künneth as well as assistant manager Martina Emrich-Pfeil. A certain Oliver Henke from Laichingen also whirled in the background. Diospi Suyana owes the fact that a good 2 tons of high-tech will soon be shipped to Peru to a number of people who went above and beyond. Ton Groen, the German head of Coda Audio, also belongs in this list. He has done something in the equipment of the speakers that no one thought possible.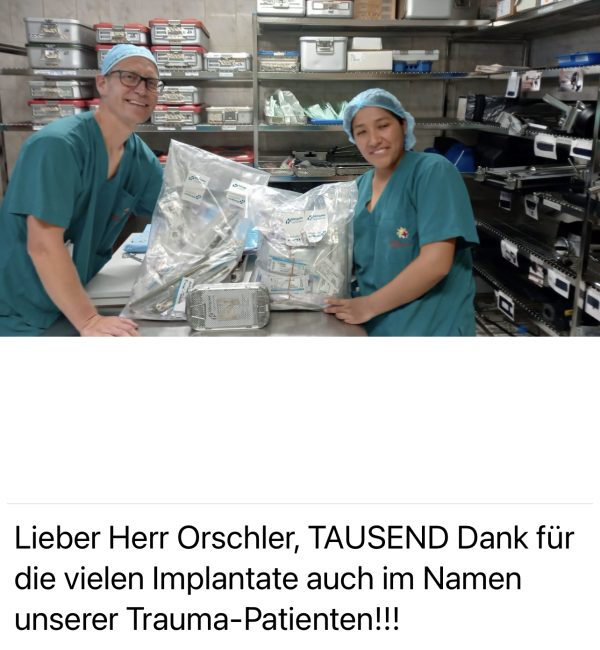 Königssee Implantate, under the direction of Mr. Orschler, supports the trauma department of Diospi Suyana sometimes in five figures and sometimes in six figures. So Dr. Meiswinkel felt compelled to send some words of thanks to Königssee, which promptly ended up on the company's Facebook page.
If you look closely, you will discover that the arch above the back wall has been reinforced by two pillars. Another steel arch was additionally installed in the front area. Now the roof is ready to support the weights of the LED screen (one ton) and trusses with concert lights and speakers. The Flores company did an excellent job on the job.
It must be called a great coincidence that Jaime Gonzalez from Limatambo with a powerful team fences, plants and instants all campsites of Diospi Suyana. The work is progressing rapidly. A thank you also to his engineer Darwin Chillituba.