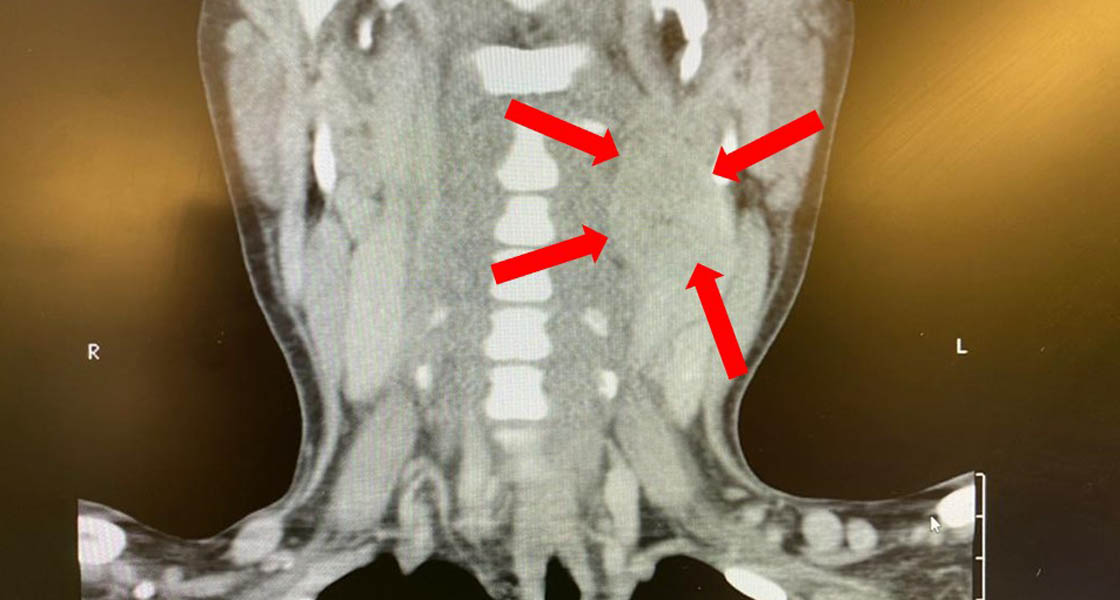 Progress and Highlights II
She was 33 years old and lived at an altitude of about 4,000 meters near Lake Titicaca. For two years, Maria Choquehuanca* noticed a painless swelling on the left side of her neck. The diagnosis was a rare glomus tumor that literally walls the neck vessels and nerves. In the major cities of Arequipa and Cusco, no one wanted to operate on the Quechua Indian. "Go to a hospital in Lima," she was advised, "the procedure is just too difficult and full of risks!" Instead of making the long journey to the Peruvian capital, she tried her luck at the Diospi Suyana mission hospital.
On May 12, Dr. Thomas Tielmann performed the surgery. It lasted two and a half hours and was successful in every respect. The tumor could be completely removed. The vascular surgeon has now operated on five glolus tumors at Hospital Diospi Suyana. (*name changed)
No less than three teams from SWR filmed about the John family over nine days in Germany and Peru. About 45 minutes were cut together for the episode "The Hope Makers". You can see the overall result with the following link. https://drive.google.com/file/d/18zthziJEia5o0IfAOYrq8LR3eThXveRi/view
According to data, 106 TV reports have now been broadcast worldwide about Diospi Suyana.
The Ministry of Labor of the Peruvian government held a national competition at the end of 2021 to find the
To award companies/institutions with the best working conditions. The results were published by the government in June 2022. There were 18 subcategories in total. Diospi Suyana competed in three areas and took two first places in the categories "Entrepreneurial Solidarity", and "Gender Equality". In addition, there was a second-place finish in "No Discrimination on the Basis of Belief, Disability, Class, Race or Gender."
On Saturday, June 18, 60 Diospi Suyana employees drove through the mountains to the village of llañucancha. Over 200 Quechua patients were treated at the local school. The range of specialties included general medicine,
Pediatrics, Ophthalmology, Dentistry, Gynecology, Urology, Physical Therapy, Ultrasound, Psychology and Orthopedic Technology.
On January 16, 2004, Mission Doctors John gave their first official talk about Diospi Suyana at the Free Christian School in Frankfurt. On June 7, 2022, which is 18 years and 5 months later, Dr. Klaus John returned to Freie
Christian School Frankfurt back. His fourth appearance of the day was also his 3,000th presentation. In an incredible way, a circle had been closed. About half a million people have listened to the Johns' lectures. Either live or on Youtube or on television.
July 30: Anna Pereira lay heavily pregnant in the bedroom, holding the fort. Papa Oliver Schmidt (on the right) stayed with the three children in the Indian tent in the garden. She went into labor shortly after midnight and Chief Oliver went looking for a babysitter in the neighborhood. When he returned, the little one's head was already visible. No problem at all. Oliver performed the birth in the bedroom – the purest routine for him as a general practitioner.
For the control in the hospital Diospi Suyana also the midwife Damaris appeared in the early morning hours. She took touching care of mother and child. And a short time later, Dr. Ollie O'Neill (left) checked on the newborn. There was no cause for concern. Serena Grace Schmidt Pereira weighed 3540 g and was 48 cm tall.
It means that everyone is replaceable. However, the departure of the Hassfeld family reveals the nonsense of this old truth. No one will be able to fully replace the gynecologist and the director of nursing. For 15 long years, the two lived in Peru with their four children and worked in managerial positions. On July 7, they were given a send-off at the hospital church. Unfortunately, we have not yet found a missionary gynecologist to replace Dr. Hassfeld.
"I should never have gotten on that bus," says Mery from Juliaca, sadly recalling a trip ten years ago. She was sitting in an omnibus with about 50 other passengers. She will never forget what suddenly happened to her horror. The bus crashed head-on into a truck. They were seconds that changed Mery'slife forever. Both of her lower legs were crushed off. At a nearby clinic, surgeons amputated both legs. Ten difficult years followed without any care. Outside the house, she moved forward on the stumps.
A tip from acquaintance gave her hope. She made the long journey to Curahuasi to the orthopedic center of the mission hospital… The findings were a real challenge for Christian Haupt, master orthopedic technician, and his colleague Daniel Müller. The result of her work put Mery back on two legs in July 2022. After a decade, she can meet her fellow human beings at eye level.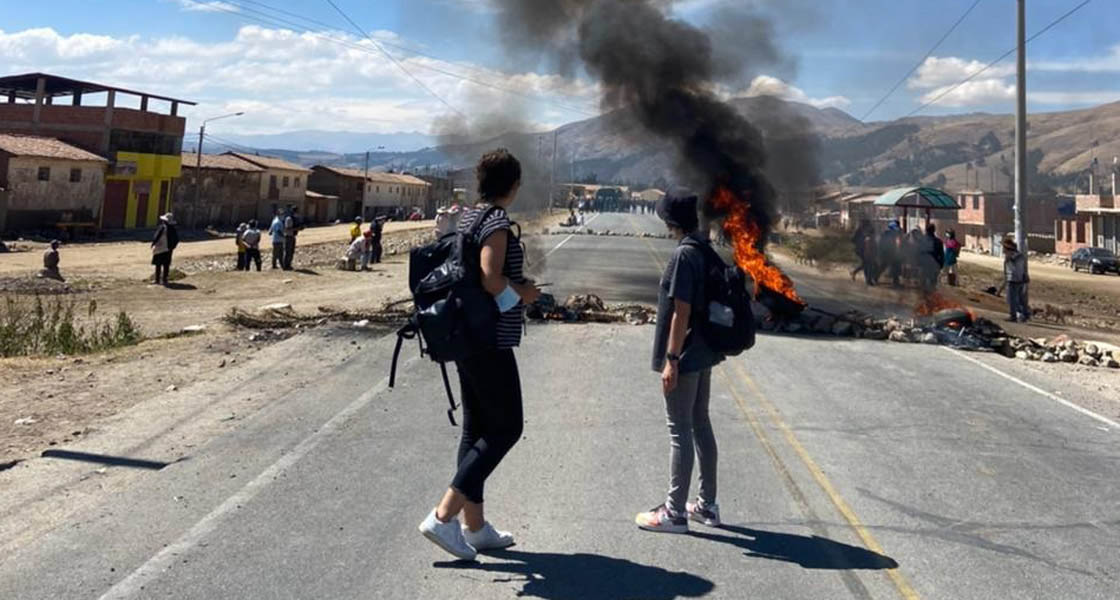 Our nurses Amelie Brücher and Henriette Söll, as foreigners, needed an official investigation by the Interpol office in Cusco. They described their journey as follows: "After a half hour march…a car ride where stones were thrown at our car….a car ride with a woman on my lap….another three hour march. …a ride on a truck bed….a ride in a mototaxi. …another half-hour march…and yet another minivan ride….we actually made it three hours late and got our document thanks to the nice officer!"
The hours flew by as if in a dream. Over 3,000 people celebrated a feast of joy and gratitude in the decorated amphitheater. Three national television teams from Lima recorded the impressions for posterity. The media center broadcast the entire event live on Youtube. The varied program featured music, short speeches, greetings from many countries and folklore. In a PowerPoint presentation, Mission Doctors John walked the audience through the highlights of Diospi Suyana.
Dr. Klaus John concluded by saying, "We look back and say thank you to God for 15 years. We don't have the words to express our admiration for what God has created with His great blessing and faithfulness here in Curahuasi!"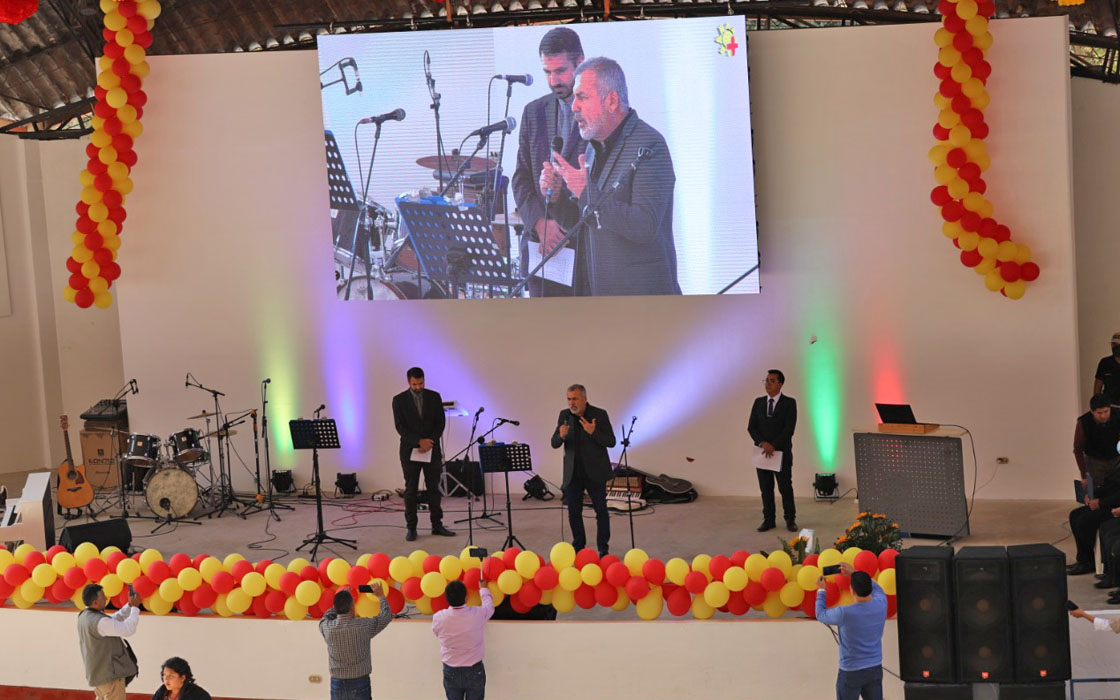 Among them is Peru's most popular television presenter Nicolás Lúcar. In Peru, everyone probably knows him and almost everyone likes him. Nicolás Lúcar works as a TV presenter for the Exitosa media group. On our 15th anniversary, he was on site for three hours. On his next television show, the avowed atheist spoke for five minutes about Diospi Suyana. He said, "In a polarized world full of hatred and selfishness, at Diospi Suyana they practice love of neighbor!"
Director Matthias Rehder writes: The Diospi Suyana School has had two difficult years. In 2019, first the corona-related school closure, then the gradual reopening via virtual teaching, hybrid teaching and finally face-to-face teaching, which we have only been allowed to offer again since the beginning of 2022. God has carried us through these difficult times and blessed us in many ways. This is also why this year's 8th school birthday something very special and was celebrated accordingly. (In December 2022, the 9th year of operation comes to an end. The school was inaugurated on March 14, 2014. However, for logistical reasons, our school celebrates its anniversary at the end of August).
Space is an increasingly scarce resource. In an ingenious prank, Pit Werner and colleagues managed to conjure up a new waiting room under the roof of the X-ray department. The expansion makes the very best impression. The connection to the treatment rooms is provided by a metal bridge. The project was completed at the end of August, more or less in passing.