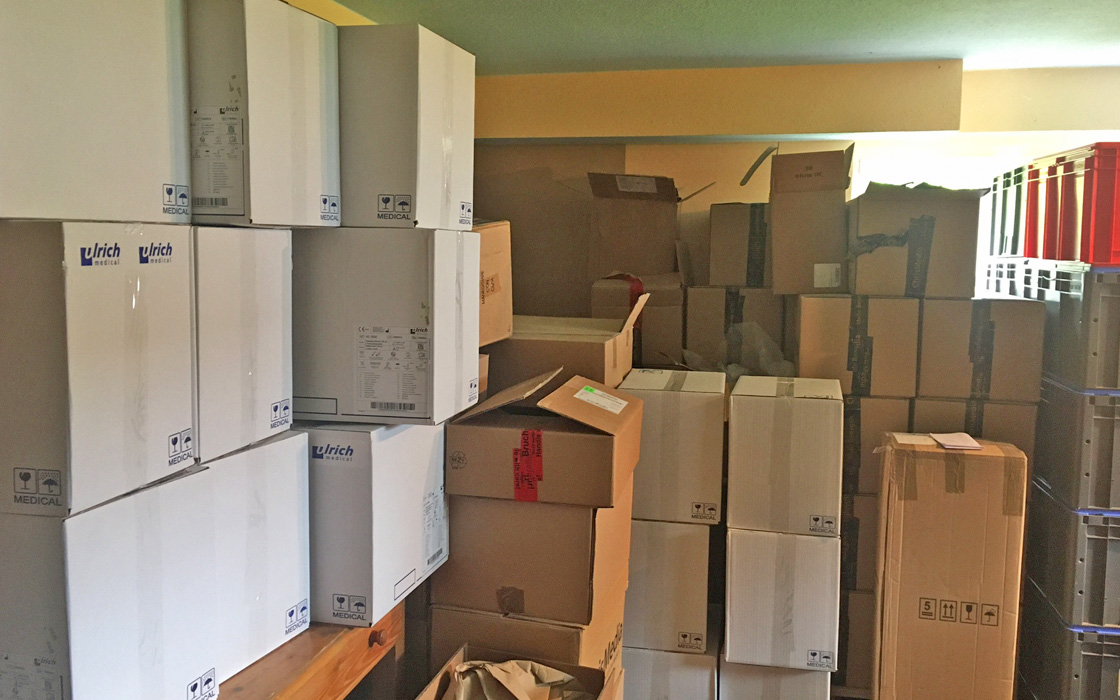 Take a peep in the Straßheim's cellar
In German a saying translated goes: "Under Family Hempel's couch", meaning that the place looks as though it has been hit by a bomb. Everyone knows that the place described looks pretty awful and chaotic.
For more than a decade Karin Straßheim has worked in Diospi Suyana's home office, of which she has been in a managerial position for nine years.  Somewhere on the ground floor a couch is standing against a wall.  If you took a torch and shone it one metre under the floor boards at this point, you would find yourself in a world full of valuable boxes.  They contain hundreds of books about Diospi Suyana written in many languages.  A couple of days ago a delivery van added 12 large white boxes to the collection: these contain tubes for a contrast media pump at the missionary hospital.  The noble donation from Ulrich medical is valued at USD5,000.
Diospi Suyana has been growing steadily as has the need for space for interim storage.  How ideal that the Straßheims let us use "their cellar under the couch" free of charge.  A trustworthy source has informed us that further palettes form small skyscrapers along the walls of the bedroom.  Given these circumstances the corridor behind the front door would have to be described as a gaping void.  But we could quickly change that.  And how the Straßheims cope with it then, is then theirs to deal with.  Family Hempel as we all know have the same situation.
Also in the name of the Association Diospi Suyana e.V. we express our cordial thanks to Karin and her husband Rainer.  And if possible we would like to take full advantage of the remaining space capacities in their home./KDJ.