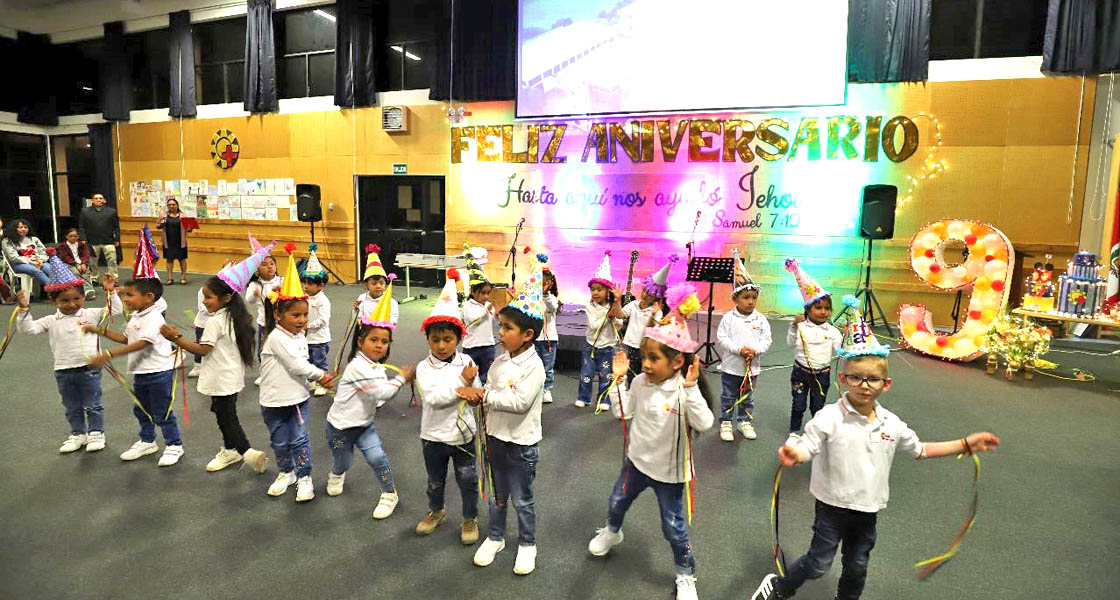 Creativity, joy and gratitude
On March 14, 2014, an enthusiastic audience celebrated the inauguration of the Colegio Diospi Suyana. However, since the summer vacations end every year in March, the official birthday of the school was moved to June 16. Thus, our educational institution is in its 10th year of operation.
Last Friday morning competitions were held in five categories. Poems, songs, painting, decorating and reciting Bible verses. The winners of the respective eliminations were allowed to demonstrate their skills in the evening in the large festive assembly.
In his speech, educational director Jonathan Rosenkranz listed no less than nine reasons why he enjoys working at the school. No doubt another motif will come to his mind next year for his 10th birthday.
The Diospi Suyana School teaches students from all walks of life. 30% of the children and young people receive scholarships financed through sponsorships. The excellent results in national competitions show that our Colegio does not have to fear comparison with educational institutions in Lima.
Thanks to the director Matthias Rehder, Jonathan Rosenkranz and Niklas Sierras. They build on a solid foundation that Christian and Verena Bigalke have laid over eight years. The teaching staff deserves our appreciation and of course we are all proud of our almost 500 school children.
During a walk in the summer of 2010, Mission Doctors John pondered the reasons for and against establishing a Diospi Suyana school. Finally, a positive decision was made and three million USD went into the construction as well as the equipment of the Colegio. Many incidents during the planning phase pointed to God's blessing. Engineer Udo Klemenz led the construction work on a voluntary basis. The architect couple Linder drew all plans free of charge. Companies from Peru and Germany sponsored lamps, tiles, flooring and some of the equipment.
We are convinced that the value of a Christian school is unsurpassed. Because when a good education is combined with hope, faith and love, the adolescents receive the best foundation for their lives. /KDJ