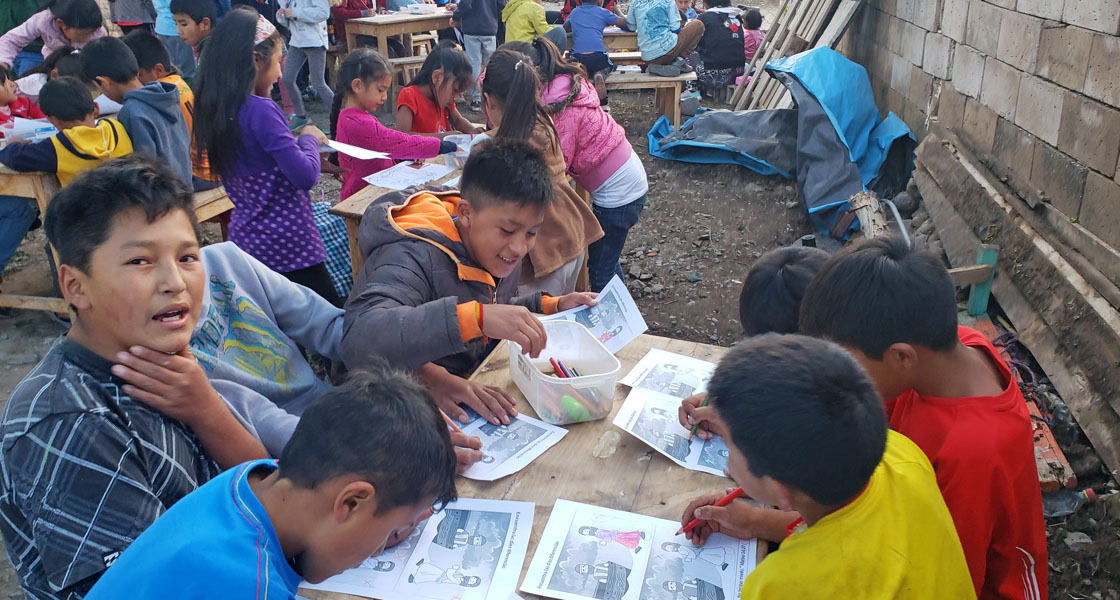 Congratulations to Sonja Müller, Mandy and Jonathan Rosenkranz, Hanna Tielmann and Sabine Teichert.
Diospi Suyana consists of the children's clubs, a hospital, a school and a media center. The clubs are the oldest branch of work. One of these children's groups meets every Thursday in the San Cristóbal district of Curahuasi. Jonathan Rosenkranz writes:
"We are the Club San Cristóbal. We have no age restriction. Sometimes 15-year-olds bring their 1-year-old siblings. Actually we wanted to start last week with the first group lesson after the vacations, but because of the heavy rain it was unfortunately not possible. That's why it didn't start until yesterday.
At four o'clock I always make a round through our neighborhood with loud music and collect the children. However, many are already waiting two hours beforehand at our front door, so as not to miss the start.
Each child has a slip of paper labeled with his or her name. Attendance will be rewarded with a sticker. If you even know the learning verse from the previous week, you get another sticker. Those who have collected many stickers at the end of the year will receive an extra prize.
In a large circle, we first sing some songs. Then follows a game like "Mr. Fisher, Mr. Fisher, Fire, Water, Storm". We also tell an ongoing Bible story. After that, we usually do a matching craft session or paint something. At the end we memorize a Bible verse and we say a prayer. Each child receives a little something to eat (fruit or a sweet).
We staff were thrilled to start the club season with 79 kids. Since last year we even have a logo. And, of course, it adorns the jogging suits that each child received as a gift last year. …!"