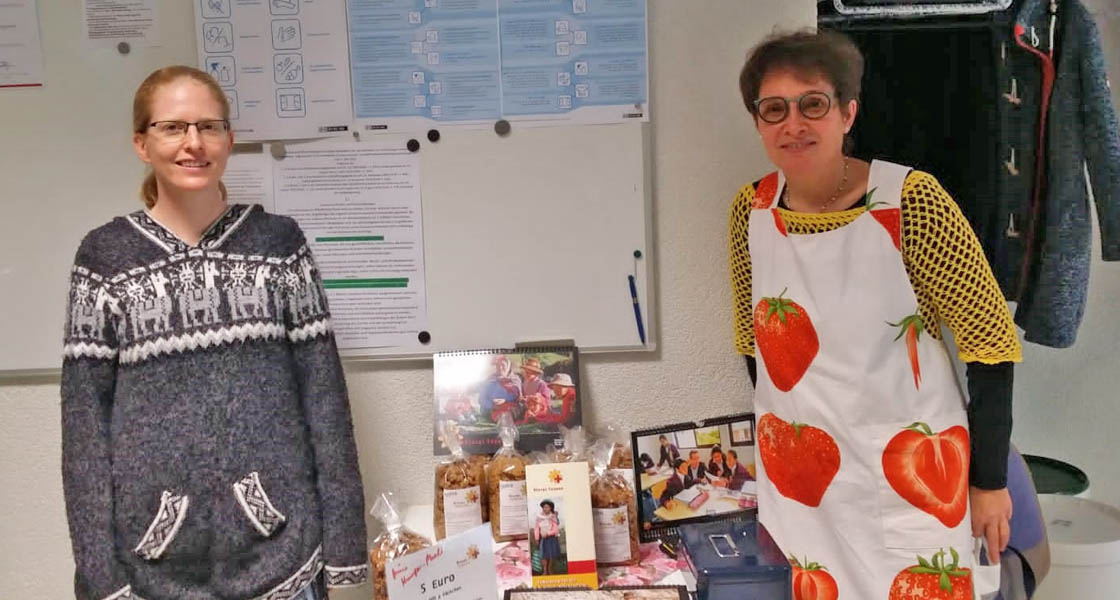 Recommendation: Always have sufficient "xx" available
Even if it is the men who often wield big words, it is usually the ladies who keep everything up and running.  In South American society macho-husbands do not play the leading role at home, but the mothers; without them nothing works.
In this respect Diospi Suyana is no exception: without the ladies we would find ourselves in the same predicament.  One example is Christine Fleck, who has been supporting Diospi Suyana for years by making granola.
At a recent ladies day her sister Marlies Kabbe (above right) sold 70 bags to hungry buyers.
Sandra Bacher (left), who herself has spent several years working at the Hospital Diospi Suyana, helped Marlies man (or should I say woman!) the stall.
Have you heard that for many years now Christine Fleck has invested ten hours a week for this project and that her husband Horst has sponsored all the ingredients?
Has your doctor advised you that if you enjoy a granola breakfast you will probably live longer than if you tuck into milk chocolate, cream-cheesecake and strawberry ice cream?
Since you are probably dying to get your hands on this healthy and delicious delicacy here are Christine's contact details: Tel.: +49-6352-957-9723 // E-Mail: kontakt@diospi-granola.de // Web: www.diospi-granola.de
For those of us who might have thought badly of women in the past, we hope that Christine, Marlies and Sandra have corrected your opinion.