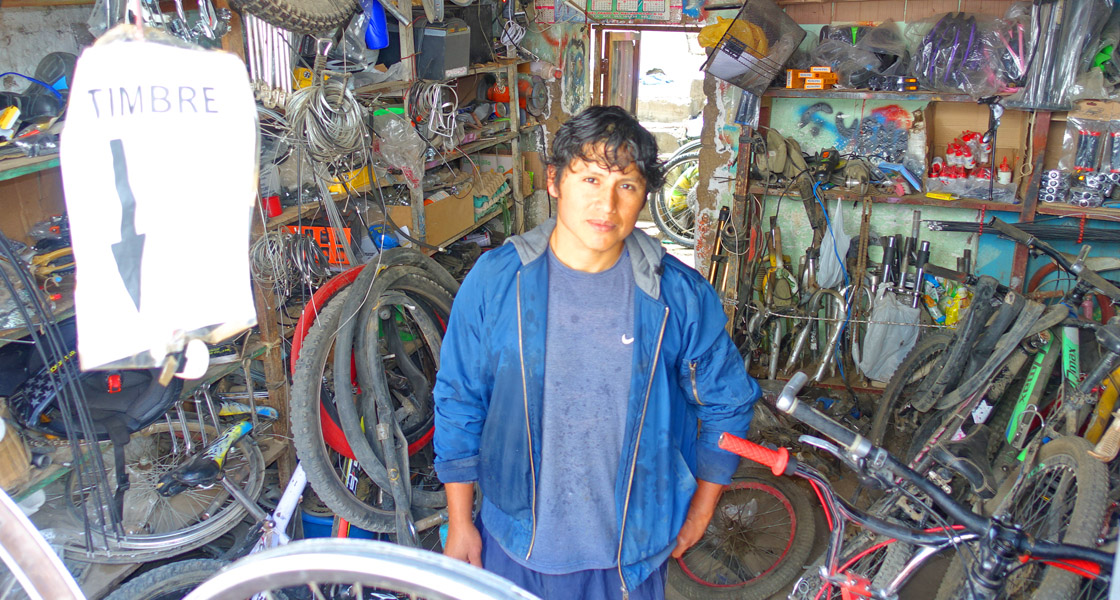 With us in the neighborhood
Where are we at home? Maybe there, where you can unabashedly throw your dirty stockings against the wall in the evening. This is the place where we sink exhausted onto the couch and turn up the stereo full blast. I always say that for me, "home" means that my wife Tina is there. And, strictly speaking, that could be anywhere, of course.
In any case, familiar feelings awaken in their own neighborhood. We have known the neighbors for almost 20 years. We greet each other friendly and here we go shopping. Because people regularly steal the valve caps from our tires (they weren't our neighbors), I had to get supplies this morning. At Boris in the bike store I bought four for one sol (25 CT.) On this occasion I also took two pairs of shoes to the cobbler. The owner, Donna Jhony, always completes her tasks to my complete satisfaction. If you knew how little she takes for her service, you would be jealous in Europe or the USA.
The cars right in front of our house take their passengers to the suburb of Pisonaypata. They regularly block our gate entrance. But they are nice people who just want to feed their families. At the corner below, one of the mototaxis takes me to the hospital in the morning. My wife usually leaves 45 minutes early with the car. If you think Martina is more diligent than I am, please keep this insight to yourself. Because I am very sensitive.
Yes here we live and live. In simple circumstances and yet deeply grateful and satisfied. When we walk through our front door, we say "hello" ten times in the first 100 meters. None of our neighbors have a Merzedes or a Porsche. And probably no one can afford a real vacation. And yet I have the greatest respect for them all. You are asking the same questions I am. Where from and where to? They are happy when their children are doing well and inflation does not eat up their hard-earned savings. When the sun shines, their faces light up. And when it rains, they know the important role of water for the fields of Curahuasi. Almost all of them, by the way, are convinced that God exists and that he will ask all of us about our decisions one day. They also know the meaning of Easter and they realize that the man on the cross and his empty tomb are sacred concepts.
Our street is named after the famous South American freedom fighter Simón Bolívar. He is said to have once said in reference to his life, "How am I going to get out of this labyrinth?" He could not do anything with Jesus Christ. At the end of his life he died poor and completely disillusioned. /KDJ