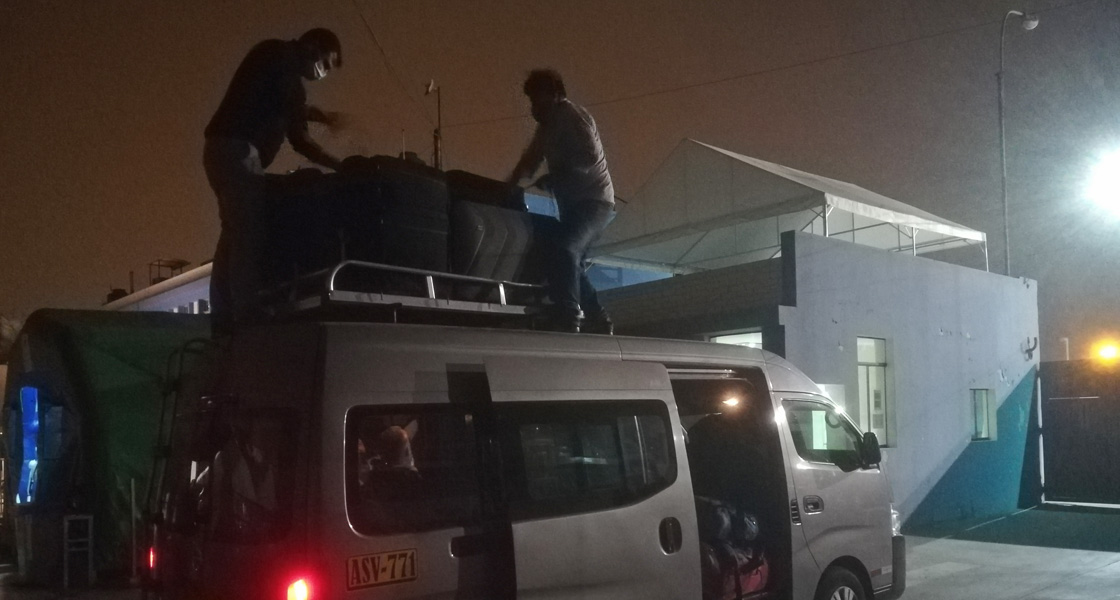 Good morning! Good night! – in a different world
"Are you sure that your minibus is big enough?" The taxi-driver simply does not get my question and mumbles through his protective mask, "Of course", before he heads up onto his vehicle's roof.  13 passengers, including the driver, 24 suitcases and 10 times hand-luggage test the minibus' capacity limits, but not do really faze his small transport company.  In South America one lives by the sentence: "One more person will always find a space!"
We drove for an hour from the military airport through cold and dreary Lima to our mission's guest house in the south of the capital.  The five children of our party probably never fell asleep so quickly, but at 3a.m. they opened their eyes and were wide awake.  At the breakfast table tea and coffee help to stomach Lima's chilly dampness.
On Friday evening the water supply in our district failed.  A phone call to the local administration of Surco/Lima was a cause for cheer: "At midnight the precious wet should flow again!" – If only!
A warm jacket helps against the cold.  The Swiss chocolate that miraculously appears out of the depths of surgeon Dr Lukas Steffen's suitcase definitely lifts the mood.  All of us are healthy, no one is coughing or sneezing.  Furthermore, missionary doctors John are speaking in glowing colours of Curahuasi's dry air, the place near the sun where its warm and yellow rays cause the snow-covered mountains to appear golden.  In a few days we will continue our journey and are sure that we will have enjoyed a warm shower by then.