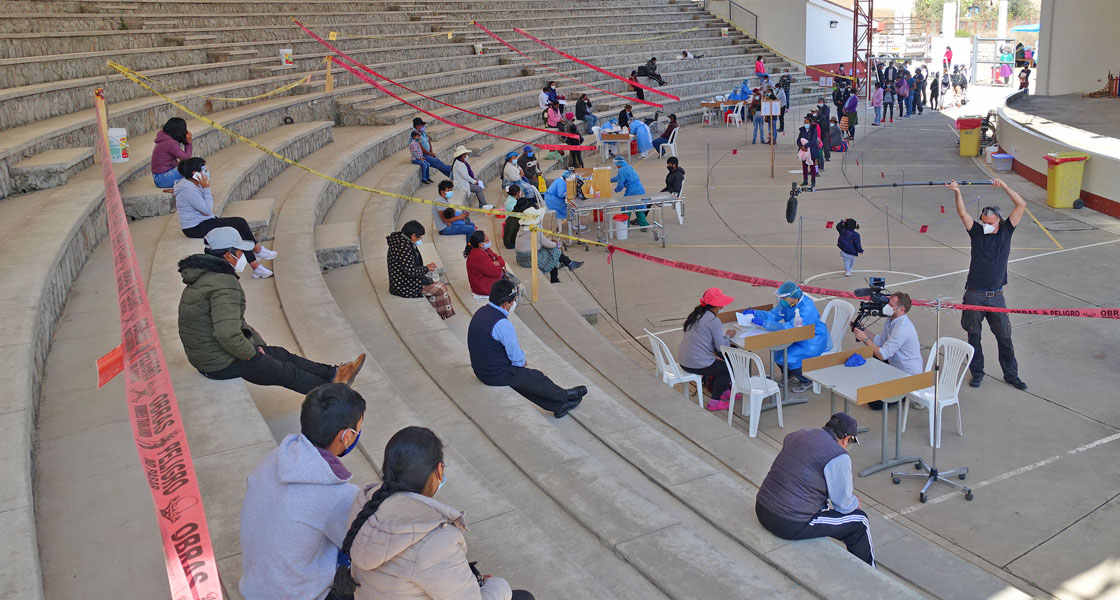 And what is so fascinating about Diospi Suyana?
Triage in the Hospital's amphitheatre.  The patients are admitted row by row and asked as to whether they show Corona-symptoms and, if necessary, they are tested.  Below right on the above picture a European TV-team is filming.  Often the men and women who pass through the hospital's doors have either heard of Diospi Suyana via radio or TV or they follow the word of mouth of friends and neighbours. Everyone has his or her story of how he or she made it to Diospi Suyana.
The stories worldwide are not dissimilar.  Today a Mr Koch living in Northern Germany sent us an email saying that he chanced upon a YouTube Video about Diospi Suyana.  Someone else finds a flyer in his or her letterbox, while a third person is given a book about our work in Peru for his or her birthday.  A press article, a radio interview or the occasional TV-report quickly spread the word about Diospi Suyana.
And the aha-experience quickly follows when Diospi Suyana's story is heard.  Something impressive has come from nothing, only by faith in the reality of God.  1,000 "coincidences" that are inexplicable for everyone who leaves God out of the equation.  But many do then get thinking and ponder the possibility that there could be something more than we can perceive with our senses.