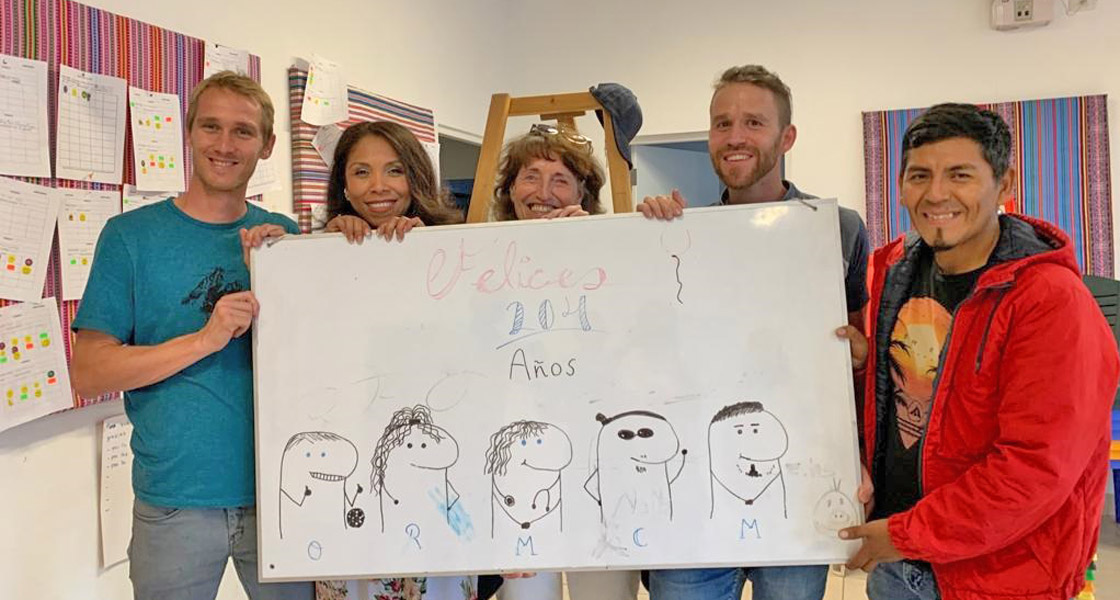 And each of you has your own story to tell
Dr. Oliver O'Neill (left) is an English pediatrician from Sheffield. With his wife Zoe, a dedicated physical therapist, he has worked at Hospital Diospi Suyana for over two years. His parents are explicitly not Christians, but when Oliver was 17 years old, a friend told him about his faith in Jesus Christ. Enthusiasm is contagious. Now the Briton lives off a circle of donors and cares for poor patients in Peru.
Rebeca Müller comes from Guayaquil and is proud of her Ecuadorian citizenship. In the afternoons, she enthusiastically conducts a radio program in our media center that is heard by thousands in southern Peru. She owes the fact that she is alive to her grandmother. In 1962, Elba Cevallos – after her husband abandoned her – wanted to commit a collective suicide with six children. But instead of jumping off the bridge, her grandma entrusted herself to God that day. The result is a trail of blessings through several generations.
In the center of the picture is Dr. Martina John, the founder of Diospi Suyana. As a teenager, she was a jack of all trades. Today at the disco and tomorrow at the dance school. Always in the middle. No time to really think about the essentials. But one day she fell off her horse and the horse fell on her. Now she was in a hospital bed for a month and a half with a compound pelvic fracture. "I could have died in the accident. What am I living for anyway?" Her many questions were answered a few months later when she made a conscious decision to live under God's guidance.
Christian Haupt, right next to her, is a master orthopedic technician. During his community service in Israel – surrounded by three world religions – he asked himself the all-important question, "What do I actually believe?" The German from Northeim has never regretted becoming a follower of Jesus Christ.
Michael Palomino (ganz rechts) ist gebürtiger Peruaner. Years ago, he worked as a cook in the hospital kitchen. His life went haywire. His marriage was on the verge of breaking up. Aber ein peruanischer Pastor machte ihn mit dem Mann am Kreuz vertraut, der drei Tage später sein Grab verließ. Those who can accomplish such a thing can still do wonders in people's lives today. For several years he has been working with his wife Noemi as a missionary in the mountain villages of Apurimac State.
So the five in the birthday photo come from four different countries. Ihre Lebensläufe könnten nicht unterschiedlicher ausfallen. But they have one thing in common. They believe that Jesus Christ is the way, the truth and the life. /KDJ