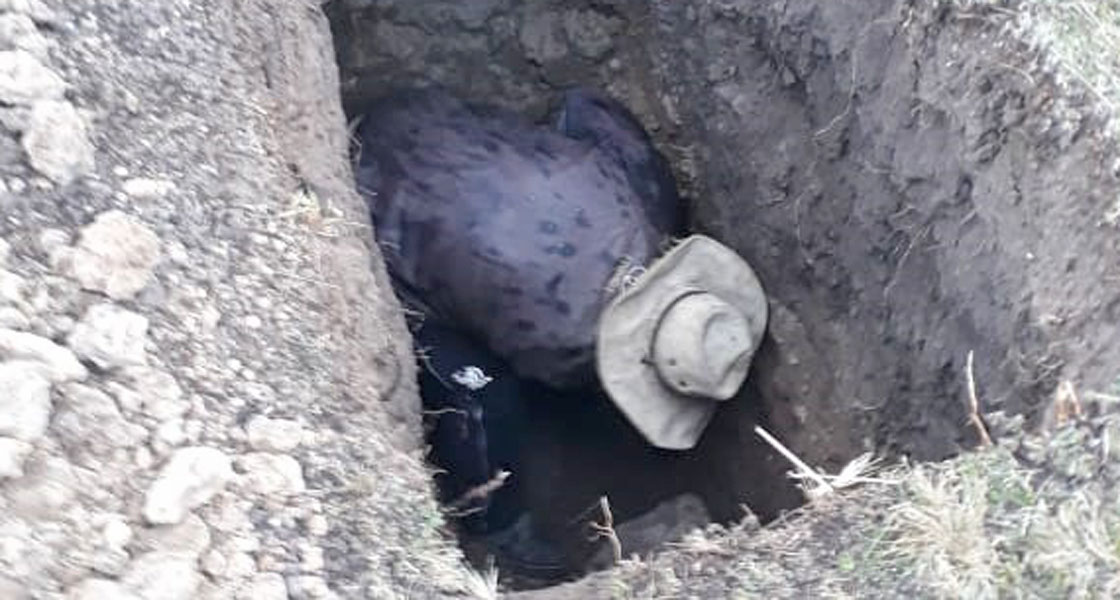 No easy task for Sherlock Holmes
These two pictures were taken by secret camera.  One needs criminal acumen in order to find out what such suspicious men are up to.  The holes that are rammed into the earth's shell, requiring a lot of energy, appear extremely suspicious.  Following several promising leads we believe that one of the following five reasons is correct:
The individuals are illegally making the entrance for a gold mine.  This theory is supported by the fact that a lot of gold is in Peru's earth.  Just because they were doing some earthworks some Peruvians became rich overnight.
These holes will conceal some patient records of patients treated at the missionary hospital.  An interesting hypothesis.  Patients, files and complications are frequently found in hospitals.
The archaeologists are looking for the remains of a Pre-Inca settlement.  A fairly plausible explanation  since all over Peru scientists keep on discovering valuable treasures and settlements of old cultures.
A rather simple explanation could be that a well is being dug here.  Could be, since through global warming the Peruvian glaciers are also melting which will have catastrophic consequences on the water supply of the villages.  Hopefully the diggers will reach the ground water level before too long.
Preparations for electricity masts.  Because two new Diospi Suyana aerial towers will soon start broadcasting, eight pylons need to be set up, with firm foundations, both in Abancay as well as in Sicuani.  But this theory is rather ridiculous: every child knows that in our modern world electricity is no longer transported via cables from a distant power station, but that nearby windmills, solar panels and small, local power stations do the job.