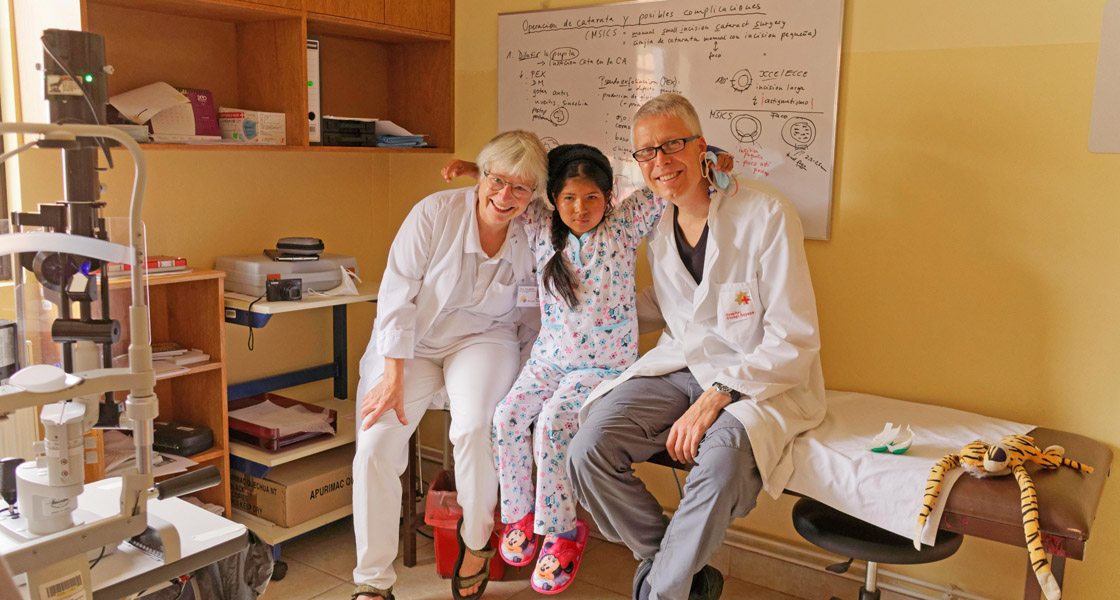 And gets her photo taken with a surgeon and an anaesthetist
After the school holidays we often have urgent cases coming to the Eye Clinic.  Since her birth little Laura Sophie (*) has had problems with her eyes.  The reason: she has suffered from cataract (grey star) from birth; furthermore, her cornea was severely crooked.  Her sight rapidly deteriorated over the last few months so that not even the best glasses could help.  Thus, she also was unable to take part in lessons at school.  Only an operation could better this dramatic situation.
Before the operation the young patient wanted to have her photo taken with Dr Werner Keßler and anaesthetist Dr Elisabeth.  "I want to see who operated on me!"  she said hesitantly.  Later she was given photo, no question.
On the day of the operation our eye surgeon first prayed for God's blessing.  Everything went smoothly without any complication.  When 24 hours later the bandage was removed the team of doctors stood excitedly next to Laura Sophie.  Success across the board.  She can see the sky, the flowers and even the faces of the doctors who treated her.  Cordial congratulations. (* Name changed)