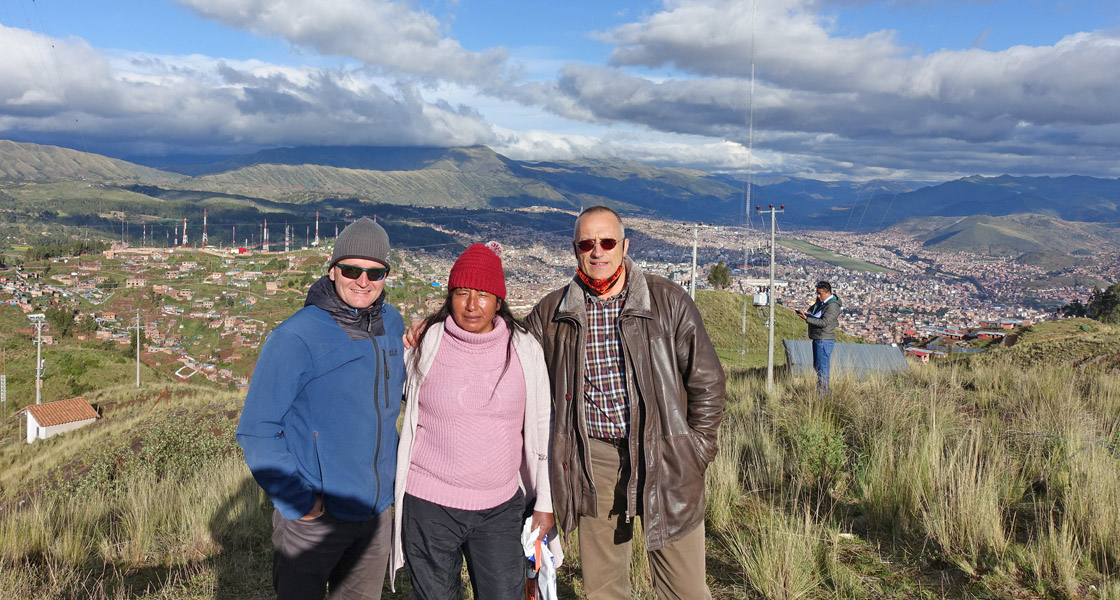 Needed: three locations for aerial towers
With a delay of 60 seconds we leave Curahuasi at 5:01a.m.  Missionary doctor Benjamin Zeier, who discovered his love to modern media years ago, is sitting on the passenger seat, while David Hanco from our Media Centre makes himself comfortable in the back.  We are off to do in one day that for which one normally needs several days if not weeks: looking for three locations in the mountains for our planned aerial towers in Urcos, Cusco and Anta Province.
Just after 7a.m. – if everything goes according to plan – we will meet Willy Lopez, an engineer from the company ICESE, at Cusco Airport who will help us evaluate the terrain.  The company based in Lima should not only build and erect the 3 steel towers, but also build the base-plates, the walls and the equipment hut: these also three times.
At 8:40a.m. I stop the car just before entering the city of Urcos and we pray together.  The radio wants to bring the "Best message to the world".  With everything we say and do we want to bring glory to God.  Thus, and it goes without saying, we ask for his blessing.
And already we are standing in front of the Province's City Hall.  Shortly afterwards David appears with the deputy president of the village community, where we hope to erect the antenna.  Within minutes we are led to the house of the president.  When at 11a.m. a well-built man strikes Haro's church bells for the hour we have solved our first task.  We have found a wonderful 100m² plot of land.  In one week we might be able to sign the contract in a notary's office.
Change of location.  Our 4-wheel-drive climbs over dirt-tracks from one mountain top to the next.  Cusco with its 0.4mio inhabitants lies below in the valley.  At 5p.m. accompanied by the owner of a large plot of land we find what we are looking for: an unobstructed view onto the provincial capital and a clear view to the rear over the city of Poroy.  It cannot be better.
The sun is touching the horizon.  The four of us are driving full-speed-ahead through Anta Province.  Our goal is the "Cerro Sacro", the Sacred Hill.  If we are successful in getting a plot of land there, then we can broadcast our radio programme into several cities: Urubama, Chinchero, Izcuchaca, Maras and Anta. The view from up here is breath-taking.  On the right one can see the snow-covered mountains of Cordillera Urubamba, while a lagoon glistens on the left.  Everywhere in the valleys we see villages that we want to reach with our ether-waves asap.  A holy hill is a fitting address for the message of faith in a God who loves us humans.
When we arrive back at the Hospital Diospi Suyana at 9:30p.m., after 16.5 hours, we have options for our new aerial towers on the table.  We are talking about a potential 0.5mio new listeners, i.e. no small thing.  A feeling of thankfulness fills us.  Of course it will be a long way full of hurdles till we will start broadcasting, but today's result is simply fantastic.  In the end everything is and was dependent on God's blessing. /KDJ